IGNOU MBA
Master of Business Administration – 2023
Indira Gandhi National Open University, the largest open university in the world (IGNOU) offers MBA courses to management education aspirants from all over India and eligible foriegn students.
Read on to find out more about MBA programmes offered by IGNOU.
Get Help & More Information
For Distance MBA admission help, please fill your details over here.
Are you looking for information about IGNOU's Distance MBA Program?
You can use these links to get all the information you need about IGNOU's popular MBA program offered through Open Distance Learning (ODL) Method

You have to qualify in the OPENMAT entrance exam to be qualified for admission to MBA. Read More

Never miss a deadline to submit your application. Find all the important dates here.
Whether you are a fresher who just finished out of college or a business executive or an entrepreneur, IGNOU MBA is a very good solution for you to pursue your dreams in management education.
IGNOU offers a variety of MBA programs tailored to meet the requirements of people of various backgrounds. Read more about the different MBA programs offered by IGNOU in the sections below. 

IGNOU primarily offers its  MBA program through the Open Distance Learning Mode (ODL) also known as correspondence learning. It is one of the most sought after version of the MBA programs offered by IGNOU.

Executive MBA programs are specifically designed to meet the requirements of the working executives who wish to up-skill and move forward in their careers. These MBA programs are mostly opted by mid-career executives.

For those who want to specialize their MBA, there is an option for that too. The specialization MBA programs offered by IGNOU caters to people from various fields like Banking, Information Technology  etc. to obtain an MBA relevant to their fields of action. 
You can also watch the video below to know about types of MBA offered
There are many advantages for doing an MBA from IGNOU. We are listing some of them below:
Top Distance Learning University in India
IGNOU is undoubtedly the number one distance education university. The MBA program offered by IGNOU is of exceptional quality.
Approved by University Grants Commission (UGC)

MBA and many other programs offered by IGNOU are approved by UGC, making them valid across 4rabet app India.
Approved by All India Council of Technical Education (AICTE)
The MBA from IGNOU is approved by AICTE, which regulates the technical education programs in India.
Lower Cost
IGNOU's fees are very low compared to other distance education universities in the government and private sector.
Who Should Consider MBA from IGNOU
The MBA programs offered by IGNOU are highly flexible to meet the requirements of all busy people from all walks of life. However, the following people find it highly useful as an option for MBA.

These are the people who innovate with their ideas. They use their entrepreneurial skills to build up their businesses. If you are an entrepreneur your busy life might prevent you from getting an MBA from a brick and mortar institution, this is where IGNOU comes to your rescue by providing you with their flexible MBA programs.

In the hunt for a job? Don't have the time or finances for a regular MBA? This is your opportunity to get your dreams fulfilled.

Always wanted that promotion you dreamed of ? or want to ask for a raise in salary? and you are being barred from all these just because you don't have the educational qualification? IGNOU MBA is at your rescue. You can get an MBA without risking your current job by pursuing your course as part time or distance method.

Due to the flexible nature  of the course, this is a very good solution for all others who wish to pursue higher studies in Management
Established in 1985, IGNOU is the top national level open university in India, offering a wide spectrum of educational programs. It has the objective of making higher education available to all sections of the society at affordable and flexible terms. Today it has centers spread across India and abroad. Thereby serving true to its motto. to learn more about IGNOU, visit:
http://www.ignou.ac.in/ignou/aboutignou/profile/2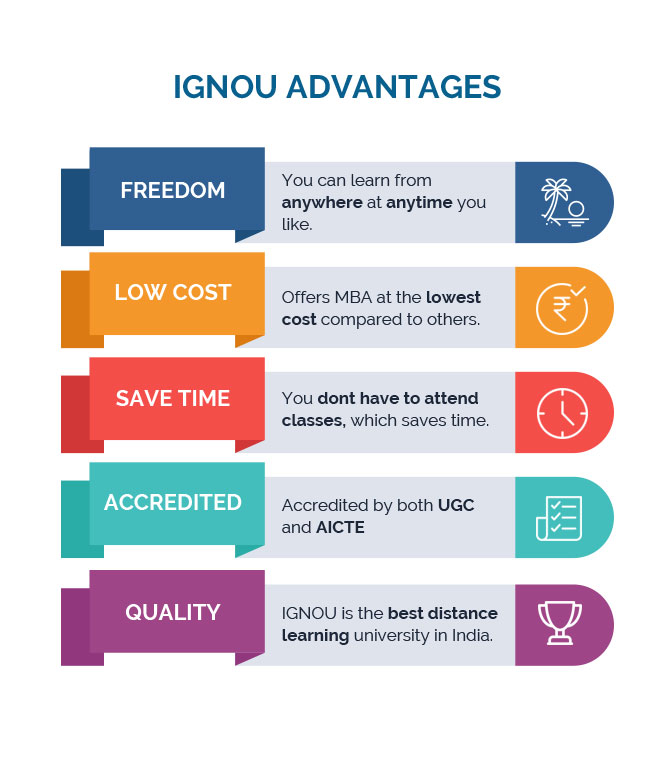 Here are some frequently asked questions about IGNOU's MBA program.
If you did not find the answer to your question, then you can contact us to get more details.
Wan't help to get admission to MBA Programs?