IGNOU Distance MBA Program – 2023
Distance Learning MBA offered by IGNOU, is one of the most "in Demand" distance learning courses in India.  It is also ranked at a very significant position among the universities offering Master of Business Administration course in the distance Learning mode, see rankings. 
Read the sections below to know more about the correspondence/distance MBA program.
Get Help & More Information
Quick Info: Distance MBA from IGNOU
For Distance MBA admission help, please fill your details over here.
The information about the distance MBA given below are for quick reading. To get a detailed picture about each section, click on the respective links on each and read the detailed guides.
You can also watch the video below to have a quick info about the distance MBA program.
Distance MBA  Specializations
The distance MBA program can allows you to specialize your MBA in any one of the following streams:
Human Resource Management
The specialization stream should be specified during the time of admission. There is a provision  for specifying your specialization during the time of admission to the distance MBA program.
Detailed Program Description
Learning Methodology
The mode of learning used is the Open Distance Learning Mode. Here the study materials are provided to you from time to time by IGNOU. You have to learn using these study materials and prepare assignments, projects etc. and finally prepare for the examinations.
Learning Materials
IGNOU uses a variety of means to provide the learning materials to the students, these include:

Always wanted that promotion you dreamed of ? or want to ask for a raise in salary? and you are being barred from all these just because you don't have the educational qualification? IGNOU MBA is at your rescue. You can get an MBA without risking your current job by pursuing your course as part time or distance method.
Broadcast Via DD1,AIR etc.
Screening during Counselling sessions at the Opted Study Centers.
Recordings which can be purchased from IGNOU Head Quarters on request.

The students must ensure a minimum attendance of 75% for counselling sessions of theory courses. If any practical counselling is involved, the attendance should be 95% for practical sessions.

The e-Content Mobile App is an initiative by IGNOU to further digitalize their distance learning programs. The primary objective of the e-Content app is to deliver important course materials to learners through easily accessible online media, IGNOU students can access all their learning materials through their internet-connected handheld devices such as smartphones and tablets.
Examinations and Assessments 
Since the MBA program is offered in the distance learning mode, assessments of the students are carried out through the following methods:

Exams are conducted in June and December of every year. 70% weightage is given to end term exams. If a student fails to achieve pass marks for any course, he/she may appear in the subsequent chances, till the end of the program duration.

Assignments have a weightage of 30%, in the final program result. The assignment questions comprise of Case Studies, Multiple Choice Questions, Objective Type, Short Answer and Long Answer questions. Assignments help you to summarize everything learned during each course.
Why Choose IGNOU For Distance MBA?
IGNOU is one of the largest providers of Distance Education in the world. There are many advantages unique to IGNOU as far as distance learning MBAs are concerned. Some major advantages are listed below:
Authenticity
The university was established by the Government of India and is an autonomous institution under it. This makes the courses offered by IGNOU very legit. The courses offered by IGNOU are considered for recruitment to various government agencies.
Affiliations
The MBA from IGNOU is affiliated to both AICTE (All India Council of Technical Education)as well as the UGC (University Grants Council).
Modularity of the MBA Program
The distance  education MBA by IGNOU is designed in such a way that the learner has multiple exit points. This means that if you drop out at some point, there is a high chance you get at least a Diploma in Management or similar diplomas because you might have completed the course combinations required for being awarded a diploma. This is because the syllabus of correspondence MBA from IGNOU is a super set of all the diploma programs. To know more about this feature, see: Course Structure.
Low Cost
The fee for the course is comparatively less compared to other Indian universities offering distance MBA. See the full fee comparison between IGNOU and other distance education universities for MBA.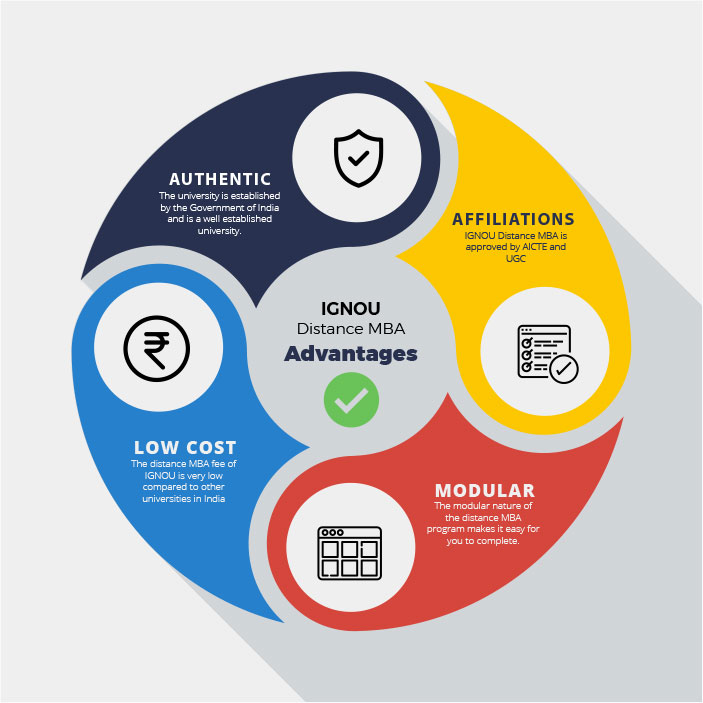 Some of the Frequently Asked Questions about IGNOU Distance MBA is answered here.
Get in touch with us to know further details about the program.
Wan't help to get admission to MBA Programs?